Caspase 3 antibody [31A1067]
Cat No. GTX13585

Application :
WB, ICC/IF, IHC-P, IHC-Fr, FACS, EM, MS
Reactivity :
Hu, Ms, Rat, Hm, Pig
Specificity/Sensitivity :
The antibody detects both pro Caspase-3 (~32 kDa) and the large subunit of the active/cleaved form (~14-21 kDa) of Caspase-3. The large subunit of the cleaved form may appear as one or two or even as a stack of bands depending on the presence or absence of the Caspase-3 pro-domain. It is highly recommended that a maximum sensitivity ECL substrate (Femto sensitive) be used for efficient detection of this antibody in Western blot applications.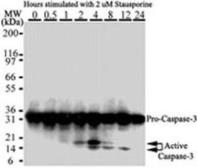 images ( 11 )